"Sweden has, again, beaten all other countries at what the World Economic Forum describes as "fully integrating new technologies in…competitiveness strategies and using them as a crucial lever for long-term growth." …

The rankings are from the report's "Networked Readiness Index" (NRI), which is defined as "the capacity of countries to fully benefit from new technologies in their competitiveness strategies and their citizens' daily lives."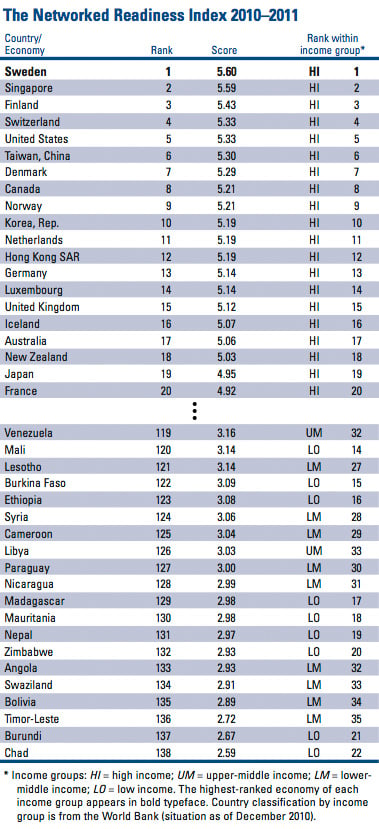 Via theregister.
Statt zu lamentieren, und sich seit Jahrzehnten dem Fortschritt nur zu verschließen, wird es Zeit, daß sich die Führungen aus Wirtschaft und Politik zusammensetzen und eine Vision entwickeln, die uns alle voranbringt – und nicht nur die Politiker selbst und die Boni der Bosse.
Mentaler und materieller Wohlstand ist nicht mit dem trotzigen Beharren auf einem längst obsoleten Status Quo zu gewinnen, geschweige zu steigern.
Wir müssen mutig vorangehen, die Regeln brechen, unsere Motoren-, Energie-, Monopol-Positionierungen und -Positionen hinter uns lassen.
Wir müssen wieder den Wettbewerb wagen, statt ihn zu ersticken. Uns den neuen Teilnehmern stellen, ihren Kräften und Konzepten. Sie agieren lassen, sie fördern, und nicht von der Vergangenheit überrollen lassen.
Wenn wir nicht wie Dinosaurier aussterben wollen, dürfen wir uns nicht wie sie verhalten!